Latest news from Cornwall's creatives
If your business or organisation has any related press releases, or you have any worthy news items that you wish to be publicised here, just use our news submission form and tell us all about it.
Warning - fake invoices
It has come to my attention that someone is sending fake invoices to people with listings on CACD.
I now run the Cornwall Arts and Crafts Directory (CACD) purley as a hobby, and do not charge anyone. So if you have recieved such an email please delete it.
Thank you
Jayne
New Etsy shop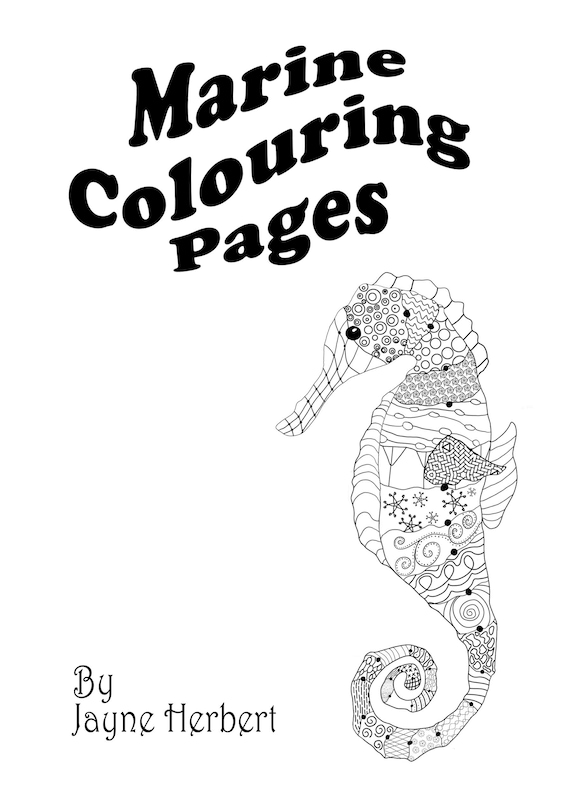 I've recently launched my first Etsy shop at www.etsy.com/shop/jayneherbertart
I'm just selling downloadable products there at the moment, including a marine printable colouring book, some 2018/19 greyhound calendars and planners plus a selection of pretty background papers for you to be creative with.
Please do visit and let me know what you think.
I'm also now selling the printed colouring books, acrylic pours and home printed note books at Treasure, a wonderful little craft and vintage shop in Penzance, along with a selction of home printed and original note books and some original acrylic pours.
Jayne - www.jayne-herbert.co.uk/jzh-art
New painting - Gribben Head
I've finished a new watercolour painting, featuring Gribben Head and a stretch of the Cornish coast that I enjoy walking, between Fowey and Polkerris. Archival prints of the painting are available to order online or to buy in person at Toe in the Water Gallery in Fowey.
To find out more about Lucy's work, please visit www.ldr-illustration.co.uk.
Crafternoon
Come along to our spacious, net-loft Hall, bring your own crafting and creative projects and use the beautiful space, alone or with friends, Thursdays 12-3pm throughout summer, at the Solomon Browne Hall, Duck Street Mousehole, TR19 6QW 01736 731040
Individual art and design portfolio and careers advice
At Aspire Arts in Falmouth, we offer individual art and design portfolio and careers advice. We envisage that you will bring your portfolio to us for this session, or send an online folder of your work.
The benefit of our individual Portfolio Advice is:
* We get you interview ready
* We enable you to feel organised and focussed
* We can help with diagnosing your specialist area
* We are highly experienced Art & Design Educators
Our Portfolio Advice session includes:
* One to One portfolio discussion.
* Discussion around the nature, content and focus of your work. 
* Consideration of the art & design processes employed in work and how this relates to application(s). 
* Encouraging reflection upon working process and idea development as an important element in building
a folder.
* The most effective way to present a portfolio for an interview.


* Advice on creating a digital portfolio.
The importance of selecting and ordering work, to best show off your skills.
* Advice sheet.

What you will need to bring :
* Sketchbooks, drawings books and journals. 
* Course work including preparatory studies.
* Any other work that you have made in addition to coursework .
* 3D work if transportable, otherwise photographs. 
* Photography / film work. 
* Garments, Costume, Samples. 
* Drawings / evidence of observation & reflection.
* The questionnaire supplied by us.


Costs
1:1 Portfolio Session 1.5 hour £65.00
1:1 Portfolio / Individual Careers Advice Session 2 hours £85.00
 1:1 Portfolio/Individual Careers Advice Session 3 hours £125.00
. Follow up sessions available at £45.00 per hour.
Contact by email on hello@aspirearts.co.uk or visit our web site www.aspirearts.education for more information.
International export support and advice
The Department of International Trade, South West is curreuntly working with regional artists and creatives to ensure an international strategy and plan.
This support includes workshops and 1:1 support from Intellectual property to Digital Advice and eCommerce advice.
If you are looking to go onto a eMarketplace or selling on Etsy or other platforms and want to maximise international business then contact Dawn Musgrave for further information.
Free entry to Penlee Gallery for local residents
A new scheme at Penlee House Gallery and Museum will extend free entry from Saturdays to throughout the week for local residents. The highly acclaimed gallery, which is owned and operated by Penzance Town Council, was nominated as the sixth best 'hidden treasure' in a national Sunday newspaper poll and has a world famous collection of paintings by the Newlyn School artists.
The Penzance Pass scheme is aimed at residents of Penzance, Newlyn and Mousehole who already support the running of the gallery through payment of the local precept. Anyone living within this area can collect their free Penzance Pass card from Penlee House Gallery and Museum or the Town Clerk's Offices on Alverton Street, providing they bring proof of their address with them.
Director of Penlee Louise Connell says, 'The galleries get very crowded on Saturdays, so this scheme gives local people the chance to visit for free during the week when it's quieter, or just pop in for short visits whenever they like. We are hoping to see many more local people of all ages visiting Penlee as a result of the launch of the Penzance Pass.'
The standard entry price for visitors not qualifying for a Penzance Pass is £4.50 or £3.00 concessions, including 60 plus. Children under 18 are free. Please note that Saturdays will no longer offer free admission for non-local residents. Visitors from outside the local area can still gain free admission if they join the Friends of Penlee House for an annual membership fee of £14 a year, or for £21 for two people living at the same address.
Latest updates
Latest updates to the Cornwall Arts and Crafts Directory (CACD)
Art exhibitions 19 Aug | Craft fairs 10 Aug | Workshops 8 Aug | Testimonials 30 Jul | Photography 30 Jul | Latest news 29 Jul | Art galleries 29 Jul | Cornish artists 29 Jul | Members on Facebook 29 Jul | Members on Twitter 29 Jul | Upcycled crafts 18 Jul | Art and craft services 9 Jul | Music listings 8 Jul | Jewellery 4 Jul | Performance art 15 Jun | Training providers 11 Jun | Web designers 1 Jun | Clubs and groups 29 May | Musicians and bands 26 Apr | Hellandbridge Pottery 25 Apr |
Meet the Artist: Bottle Lamps by Lighthows
Hi, my name is Amanda and I run a craft shop called lighthows. At the start of the year, the company who supply me with the drills I use to make my upcycled bottle lamps did a "meet the artist" blog piece, which I would like to share with you all.
www.eternaltools.com/blog/meet-the-artist-glass-bottle-lamps-by-lighthows
Amanda
'The Complete Picture' in Castle Bude
Exciting new art work and a new collaborative book from artist Bridget Winterbourne
Self-taught artist, Bridget Winterbourne, has a passion for painting vibrant, colourful landscape and coastal scenes, inspired by nature in Cornwall and Somerset, using a variety of painting materials.
Bridget exhibits in several events and galleries throughout the UK and this year she is taking part, for the fourth time, in the very popular artist exhibitions at Willoughby Gallery at Castle Bude, Cornwall.
Taking inspiration from Cornwall and her home in Somerset, Bridget will showcase her latest paintings, fine art prints, cards and books. With her love of the great outdoors, she explores the beauty of secret and secluded places, from remote beaches to meadows, woodlands and hedgerows. These special places are where she finds captivating and exhilarating subjects to paint throughout all the seasons.
This exhibition of new work is also the launch of Bridget's new book 'The Complete Picture'. A chance meeting with poet, John Watts, was the catalyst for this stunning and original creative collaboration. John describes Bridget's paintings using his sublime prose, complimenting beautifully the relationship between painting and poetry.
The exhibition runs from Saturday 4th August until Thursday 30th August 2018 with a preview evening on Friday 3rd August 6.30-8.30pm. More information concerning location and times can be found on the Castle Bude website www.thecastlebude.org.uk.
For more information about Bridget and her artwork visit www.bridgetwinterbourne.co.uk or find her 'Art to Inspire' page on Facebook.
Local artist raises £1,400 in 48 hours for brand new 'Maritime Chess'
A local artist has created a 3D-Printed 'Maritime Chess' which has received over £1,400 from public backers in just two days.

Adella - The Game of Crimps has been over three years in the making and has become commercially available after an exhibition and launch at Newlyn's art gallery on Monday. During the exhibition a kick-starter campaign was launched online inviting backers to donate. In return they would receive various pieces ranging from a small vessel or poster, to a complete set of the wood stained game.

Mr Ben Reader, who grew up in Penzance, has cited his childhood surroundings as his core inspiration for the maritime game: "Wether it was swimming in Penzance, Tombstoning in Mousehole or basking on Pedn Vounder, I was always surrounded and fascinated by the sea, it felt natural to combine that with my love of board games and passion for art."

After completing his degree in busy London, Reader yearned to be surrounded by the sea once more and chose to attend an Artist Residence in Porto, Portugal. There, Reader met a fellow artist who would join him in his quest to complete Crimps. Mrs Ana Kennerly was instantly captivated by the idea of Crimps after visiting the county that was the early inspiration of Crimps - Cornwall. Kennerly noted that she: "could understand that the sea meant a lot to the people of Cornwall, almost on a spiritual level. I am certain that a board game like crimps will be very popular here."

The two artists have shown that substance as well as style can be achieved when creating a board game. They combined state of the art technology with ancient knowledge to achieve a stunning shape that unfolds to neatly reveal the game and pieces within.

For more pictures of Crimps and more information on the artists and the kick-starter campaign visit http://www.artistoftheyearaward.com

Space available to rent in art and craft gallery
A rare opportunity to be part of a gallery without the gallery taking 50% of your sales.
Beautiful old cow shed turned into lovely and light airy Gallery in the heart of Perranuthnoe village. Space available to rent all year around. Cost will change depending on amount of artists/crafters involved and space used.
At the moment its about £60- £100 a month. I would like members to work a day a week if they can, or once every 2 weeks. I'm particularly interested in people making ceramics, fused glass, felted work, wood turning or carving.
We already have photography, painting and jewellery but am willing to see other artists/jewellers work as can be very different from one another and maybe not create unnecessary competition.
Visit our Facebook page TheGalleryOfClareMason/
Please call me for more details. Clare Mason 07957448880 Gallery 01736 448411.

The Finishing Touch Gallery, Lynfield Farm Studios, Perran Lane, Perranuthnoe, Cornwall TR20 9NZ
Spaces available at St Ives weekly art and craft fayre
Spaces are now available at St Ives weekly art and craft fayre Fri- Mon .
Our gallery and boutique standard craft fayre set in lovely light and airy space near Porthgwidden car park and beach in St.Ives. Open Friday, Saturday, Sunday and Monday 10-5pm.
I already have art, jewellery, paintings, soft furnishings, knitted baby clothes and hats with mitts, some wooden bowls and small selection of ceramics and fused glass. I'm looking for more ceramics, glass art, wood work, silkscreen printing scarves/textiles/felting and anything else different and handmade in Cornwall. Please do not apply if you make jewellery/art or photography.
I provide a 6ft x 2ft table and chairs and electric point if needed. Cost is £15 per day with slight reduction if you book more than 2 days in advance
Please contact me via email and include photos of your work for consideration Booking is essential.
Many Thanks Clare Mason thefinishingtouchgallery@gmail.com 07957 448880
Wedding Stationery Launch
Cornwall-based illustrator Lucy Reynolds has launched two brand new ranges of illustrated wedding stationery.
The ranges include personalised save the date postcards and magnets, invitations, order of service cards and table numbers as well as bride and bride and groom and groom options.
Please leave a note with any order letting me know the names and date you would like printing on the front of the cards and any text you would like to be printed inside.

Browse the ranges or place an order online at: folksy.com/shops/LDRIllustration/collections/271014-wedding-stationery

Newest members